After a wickedly monstrous night at Halloween Town Festival it's understandable you'd want to find somewhere to relax! We have a list of the top 10 hotels near by for you, so you can kick your dancing feet up at the end of the night.
1. Travelodge Bedford Goldington
Located 3 miles from the Bedford railway station, this straightforward hotel is 1 mile from Priory Country Park and 20 miles from Woburn Abbey.
The casual rooms with a contemporary vibe have limited free Wi-Fi, flat-screen TVs, and tea and coffeemaking facilities; there's no air conditioning. Kids 17 and under stay at no charge with an adult.
Address: 403 Goldington Rd, Bedford MK41 0DS
Phone: 08715991804
2. Travel Lodge Bedford Wyboston
All standard double rooms feature a comfy king size bed with four plump pillows and a cosy duvet. Guests can enjoy a wide variety of food and drink choices within a short car journey from the hotel.
Situated on the A1 northbound at the Black Cat roundabout and its junction with the A421 (to Bedford and the M1 J13). Access is off the A1 north. From the roundabout exit onto the A1 northbound and immediately exit left into the services entrance, proceed past the Petrol station and the Travelodge is located on the left.
Address: Bedford Wyboston, A1 North, Nr. Chawston, Bedford, Black Cat Roundabout, MK44 3BE, United Kingdom
Phone: 08719 846010
3. Premier Inn Bedford Priory Marina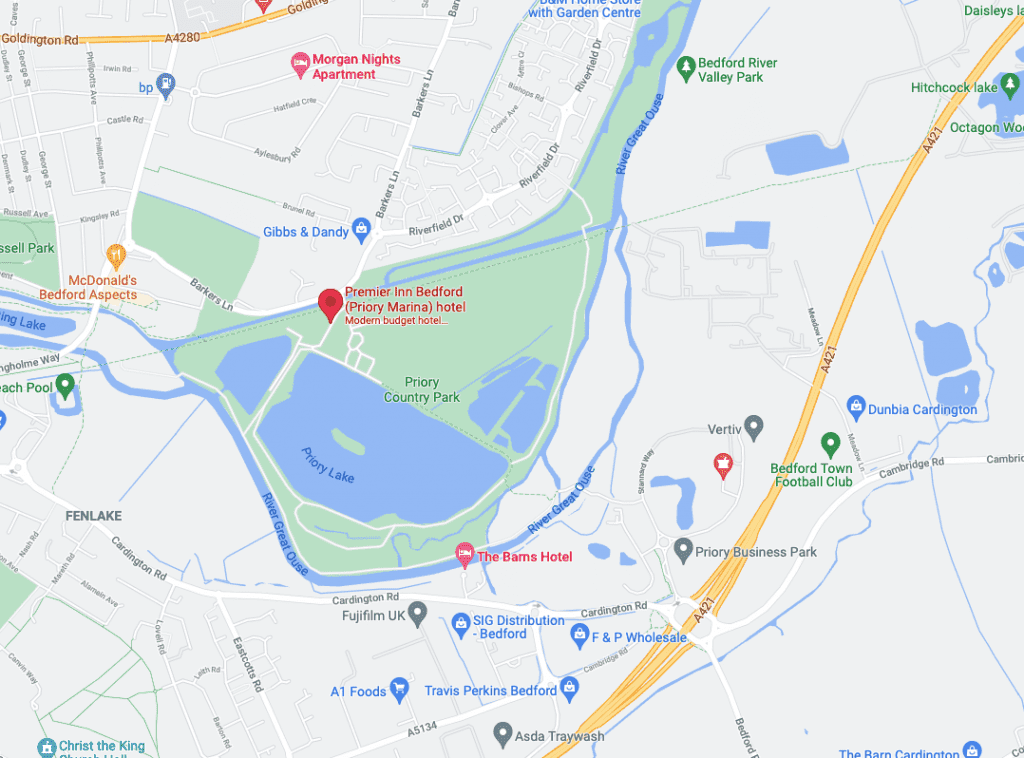 Next to Priory Country Park, Lake and Marina, this contemporary no-frills hotel is 2.5 miles from Bedford rail station.

Rooms range from singles to family rooms with 2 pull-out beds, and kids aged 15 and under eat and stay free with paying adults. In-room amenities feature free WiFi, pillow-top mattresses and en suite bathrooms with showers, as well as tea and coffeemaking facilities, TVs and desks.

There's an adjoining Beefeater grill and free parking. Breakfast (an extra cost) includes all-you-can-eat and light choices.
Address: Priory Country Park, Barker's Lane, Bedford MK41 9DJ
Phone: 0333 777 3687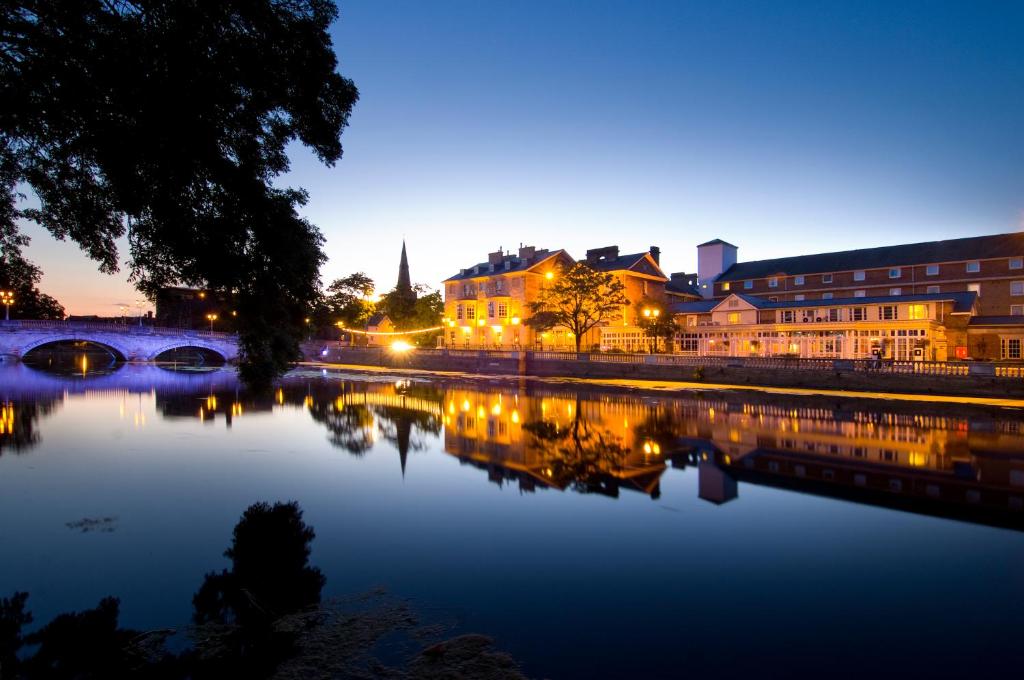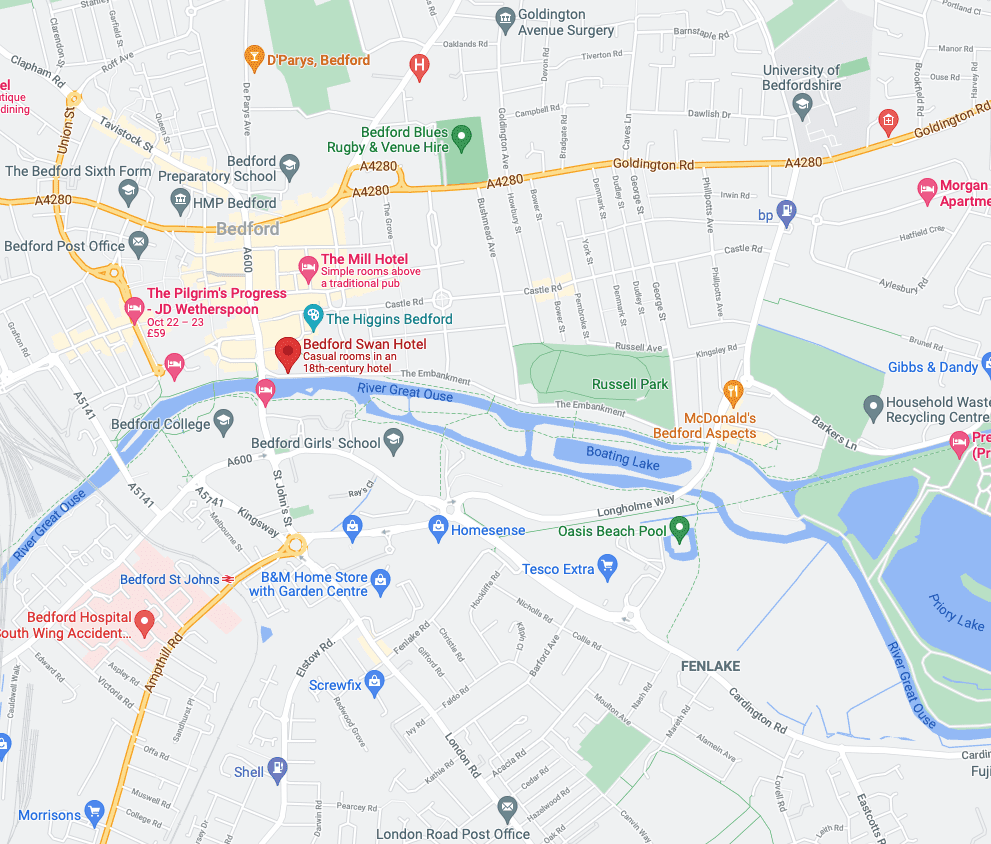 Overlooking the Great Ouse River in Bedford town centre, this elegant spa hotel dates from 1794.

Relaxed rooms feature flat-screen TVs, minifridges and free Wi-Fi, plus tea and coffeemaking facilities. Suites, some with exposed wood beams, add sitting areas, sofabeds and river views. There's 24-hour room service.

An elegant restaurant with a seasonal terrace prepares classic British fare using locally sourced ingredients. There's a bar and lounge for light bites, cocktails and afternoon tea.
Address: The Embankment, Bedford, MK40 1RW
Phone: 01234 346565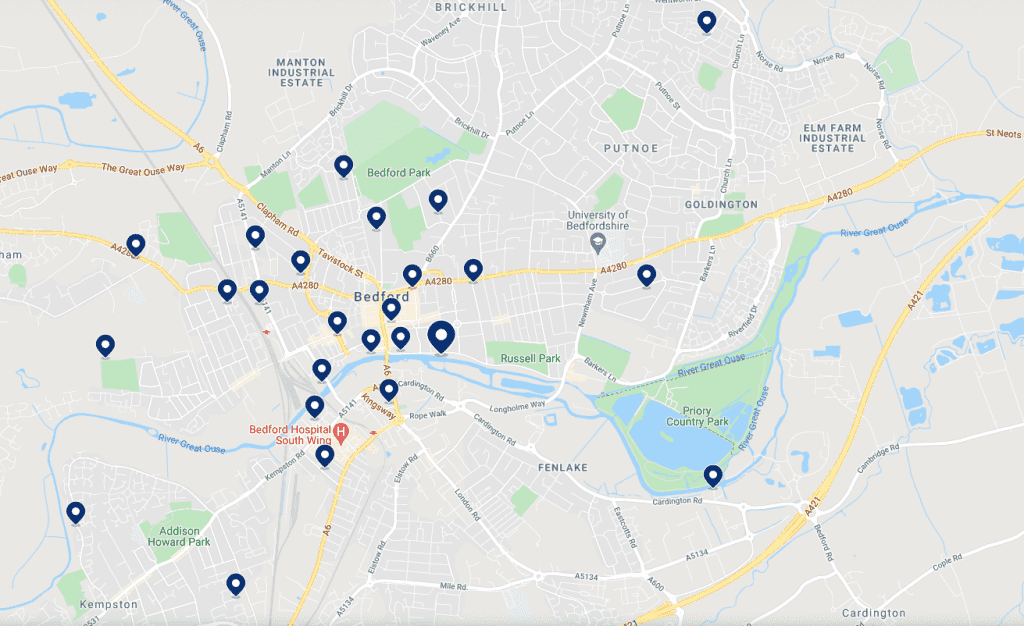 This upmarket pub with rooms in a Tudor-style building and an adjoining cottage is beside the Great Ouse River in the town centre, set 1.1 miles from the railway station.

The rooms are furnished in a contemporary style and have en suite bathrooms, flat-screen TVs, iPod docks, free Wi-Fi, and tea and coffeemaking facilities; some include river views. There's 1 room in the adjoining cottage.

Full English breakfast is available for a surcharge. There's a buzzy pub offering modern and traditional British dishes, plus real ales on tap and a wine menu. Limited off-street parking is complimentary. There's also meeting and event space.
Address: The Embankment, Bedford, MK40 3PD
Phone:01234 261332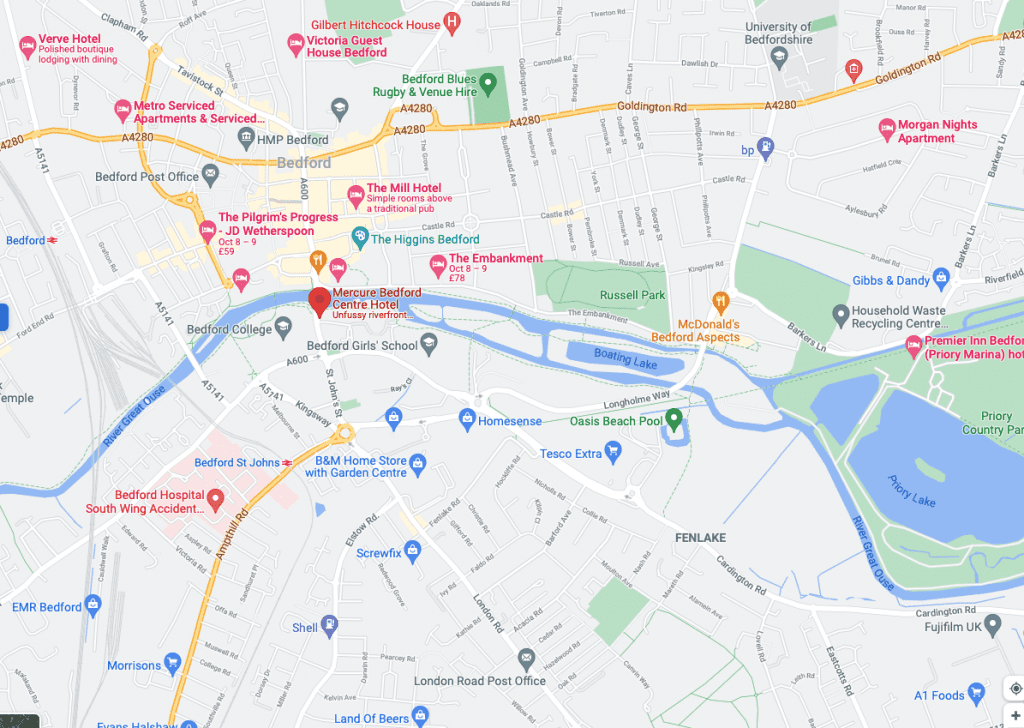 On the banks of the River Great Ouse, this straightforward hotel is a 4-minute walk from The Higgins Bedford art gallery and museum, and an 8-minute walk from Bedford St Johns train station.

Casual rooms with colourful accents feature flat-screen TVs, tea and coffeemaking equipment, and free Wi-Fi; some offer river views.

Amenities include a relaxed restaurant and a lobby bar, plus meeting and event facilities with space for up to 450 guests. Breakfast and parking are also available.
Address: 2 St Mary's St, Bedford MK42 0AR
Phone: 01234 799988
7. The Mill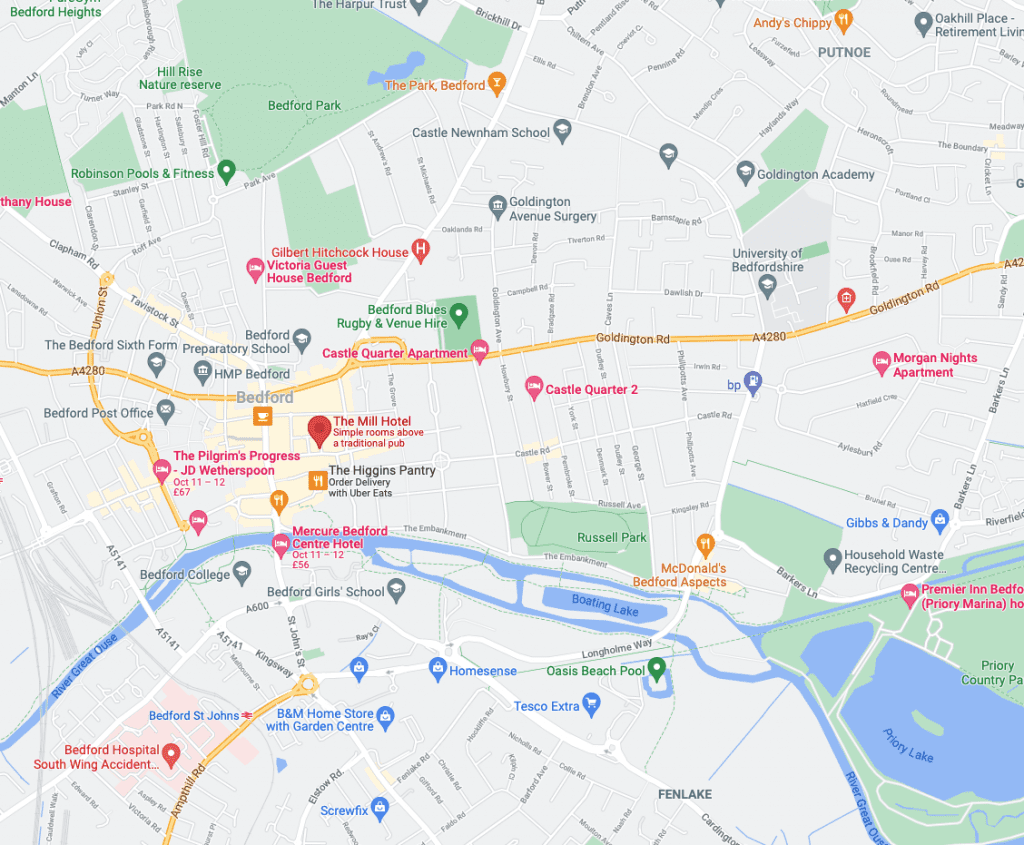 In an old world building, this traditional pub with rooms sits in Bedford town centre, a minute's walk from the John Bunyan Museum and 4 minutes from the banks of the Great Ouse river.

Simple rooms come with sinks, flat-screen TVs and free WiFi, as well as tea and coffeemaking facilities. All share bathrooms.

The cosy pub has a selection of real ales and wines, and offers overnight off-street parking for a surcharge.
Address: 32-34 Mill St, Bedford MK40 3HD
Phone: 01234 359922
8. Premier Inn Bedford Town Centre Riverside Hotel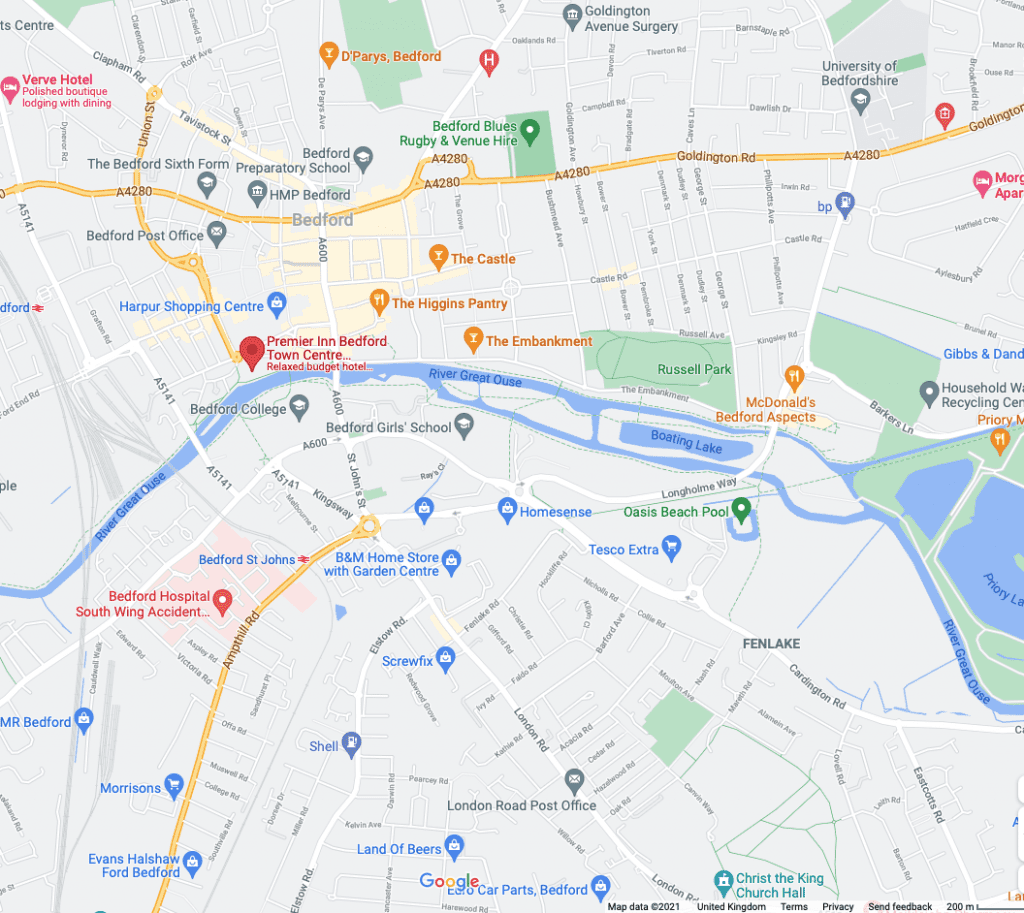 Across the street from Harpur Shopping Centre, this relaxed budget hotel is a 7-minute walk from the Bedford Castle Mound and 12 minutes' walk from Bedford railway station.

The understated rooms come with complimentary Wi-Fi, flat-screen TVs, and tea and coffeemaking equipment.
Address: Riverside Square, Bedford MK40 1AS
Phone: 0333 234 6520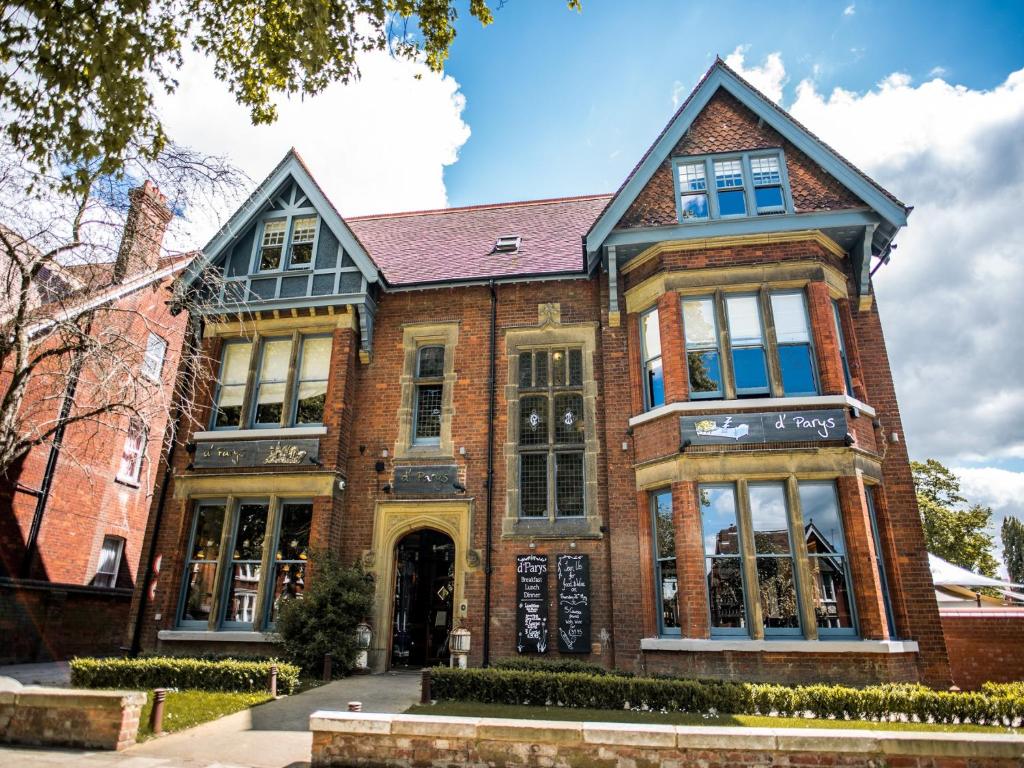 D'Parys hotel is a charming and charismatic building nestled in the Victorian 'urban vista' of De Parys avenue, nearby Bedford Park & bustling town centre. Old-world gastropub offering rustic-chic rooms with claw-foot baths, plus modern British cuisine.
Property Amenities
Free parking, secured parking, free High Speed Internet (WiFi), Bar / lounge,Conference, baggage storage, Non-smoking hotel.
Address: 45 De Parys Ave, Bedford MK40 2UA
Phone: 01234 340248
10. Pilgrams Progress Whetherspoons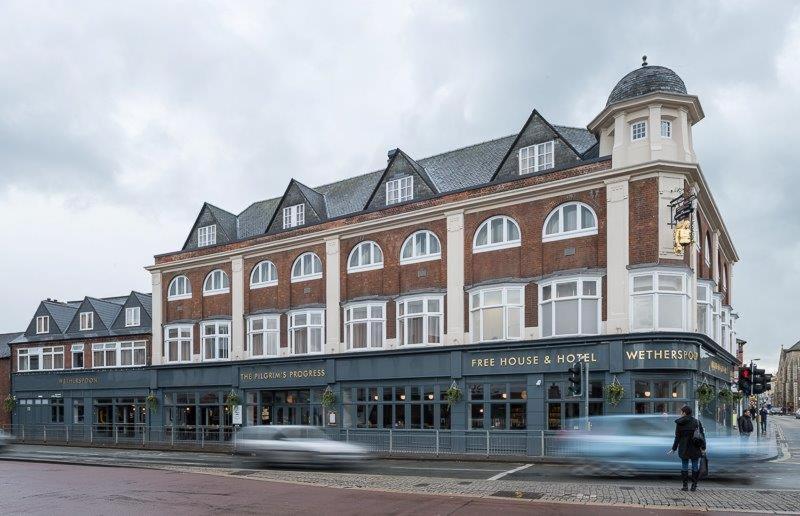 In the heart of Bedford, this hotel has been furnished and decorated to an extremely high standard, in keeping with the character of the building and highlighting Bedford's rich history. There are 31 hotel rooms, beautifully decorated, comprising family rooms, twin and double rooms, as well as those designed specifically for customers with disabilities. There are also five deluxe family suites which sleep four (two adults and two children). All rooms have en suite shower and bath facilities, plasma TV, tea- and coffee-making facilities and hairdryer
Unlimited free Wi-Fi is available in the hotel and pub area also.
Address: 42 Midland Rd, Bedford MK40 1QB
Phone: 01234 363751
We hope this helps with finding your perfect relaxation staycation 👻
We'll be seeing you very soon!